The Astonishing World of Trees and Astonished by Trees Blog 
Trees are the vital organs of the earth—they breathe oxygen into the air; protect freshwater resources; house numerous species, and provide food, shelter, and medicines for all of us. The list of what trees do for us is astonishing!
The Astonishing World of Trees website is the bridge between science, education and the arts. We seek to help you learn to see and appreciate the trees in your immediate environment and understand the essential role they play in your lives. We want to inspire you, and your grown-ups, to plant, nurture and protect trees now; for yourselves and for the sake of future generations. And we encourage you to take the pledge of the Tree Guardians), children who respect all of nature, especially this most treasured and precious resource.
Throughout time, the beauty and spiritual nature of trees has touched the hearts of millions of people—from children, artists and poets to scientists, engineers and scholars. Trees are also one of the common denominators bridging all religious traditions and cultural practices in the United States, as well as around the world. There is so much we don't know about trees. But we believe now is the best possible time to learn all we can! A famous writer once said: "A tree is beautiful, but what's more…it is essential. Life on Earth is inconceivable without trees!"
The Astonishing World of Trees consists of the blog, Astonished by Trees, with posts featuring interviews with authors, artists, scientists, teachers, arborists, poets, educators and musicians; educational and organizational resource links; book recommendations, and the Beauty and Wonder of Trees Environmental Art Project. We see ourselves as a catalyst for the spread of creativity-based eco-literacy; heart-opening compassion towards nature, and the realization that we are all global citizens whose daily actions can impact the lives of children around the world.
We hope you will become Astonished by Trees as well, and share your amazement, activities, lessons and efforts with us on our Facebook page! Feel free to comment on our blog posts and share our collective efforts with your family and friends.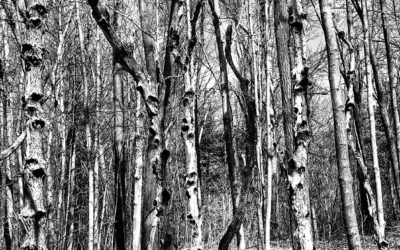 Just west of Kalamazoo, Michigan, there is a small grove of juvenile sugar maple trees, with thin, distorted trunks and scars. It is simultaneously arresting and chilling to see them. Some are at least 12 feet in height; more stalks than trees, without branches or...
read more
"Trees must develop deep roots in order to grow strong and produce their beauty. But we don't see the roots. We just see and enjoy the beauty. In much the same way, what goes on inside of us is like the roots of a tree."
Joyce Meyer